West Greenland Sea Kayak – Selkie
The current version of this boat built by Valkyrie Craft is produced under license from Cape falcon Kayaks using their design and is available in 11 sizes to fit paddlers from child size to 100kg!
It is a fast, light and sturdy kayak. Its design evolved over hundreds of years as a fit-for-purpose hunting boat capable of fast acceleration, speed, manoeuvrability and ability to handle rough seas.
​Based on the CMC-IV-375 Greenlandic hunting kayak, stored at the Canadian Museum of History, this early 20th century West Greenland hunting kayak is considered the most versatile of any true traditional Greenland kayak. The moderate length makes it a playful, controllable kayak that is noticeably quicker than longer boats due to the reduced wetted surface. It sits low enough in the water to tackle advanced Greenland rolls, but still high enough to be useful as a day-trip sea kayak. Additionally, the deeper than normal foot area combined with framing adjustments make this a kayak that is significantly more comfortable than the original while still remaining true to its dimensions and classic lines.
Its lower volume means it lacks space for stowing kit for long distance trips but it performs well for day trips and can be used for light weight camping. Having said this, one of our early boats, based on a similar original, was used on a 75 day solo 'round Ireland' expedition in 2014. The expedition was largely unsupported and the boat carried 5 days' worth of food and all kit required. To make this feasible very careful packing and frugal thinking was required.
Key features:
Light weight – fast acceleration, ease of portage and brilliant for lifting on to roof racks etc.
Skin on Frame boats are significantly lighter than similar sized composite and plastic boats. To give a rough guide where a standard composite would average around 20kg, and a similar spec plastic boat would average around 25kg, a skin on frame would average 13-14kg.
Highly responsive to edging – the single hard chines assist in carving turns.
Low profile/ low volume – reduces reaction to windage even when paddled empty.
Ease of rolling – the low volume and low profile assist in rolling and recovery.
On-deck gear storage – the flat decks allow storage behind and before the paddler.
Fast and Efficient
The best bit is around 10 seconds in!!
Optional features: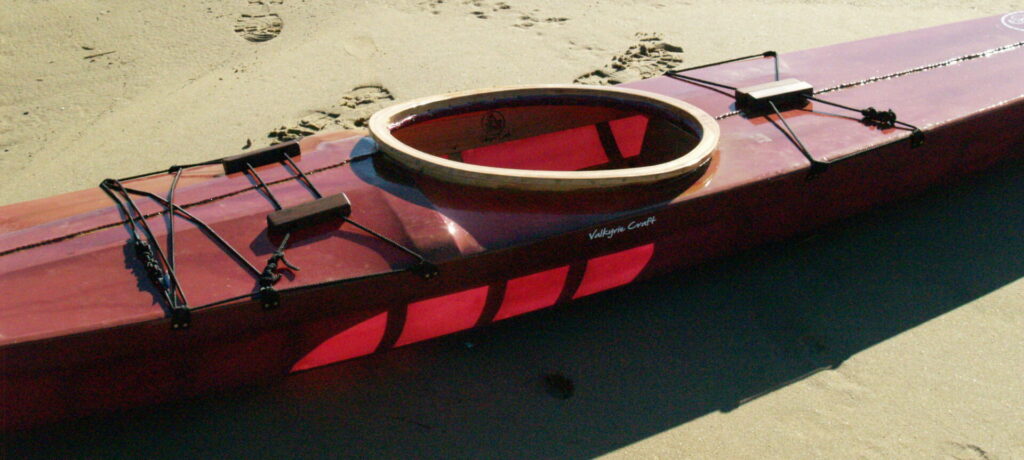 Deck lines: The boats are usually finished with grab handles fore and aft, a single bungee strap and traditional paddle stays before and behind the cockpit. If required a single line running along the gunnel tops can be added but we take a minimalist stance as a standard fit.
Adjustable foot rest: The traditional design has a structural beam set at the correct position for a foot brace. If desired a modern adjustable system can be added to allow the boat to be paddled by a shorter paddler, or the beam positioned to allow taller paddlers to also use the boat. Supply and fitting of the peg plate is an additional cost.
Spray deck and sea sock: We use Reed Chillcheater to supply these, made to measure using our own templates. If required we will arrange for these to be made and supplied at their asking price.
Materials:
Timber: The entire frame is constructed from a combination of timbers chosen for specific attributes. The choice of timber can be adjusted if required. The gunnels and chines are Western Red Cedar chosen for light weight and flexibility, the ribs and cockpit combing are oak, chosen for strength and ease of steam bending. Hardwood is incorporated in some places where additional strength is required such as the deck plates which join the stems to the gunnels.
Fixings: The frame is held together with a combination of artificial sinew lashing and the use of dowel pegs. This system has a series of benefits. Standard metal fixings can both rot and work loose over time, becoming weak and destroying the timber they are fixed into, and are therefore not used in our kayaks. Lashings and dowels are able to flex with the boat without loosening and this ability to flex is an additional benefit since the natural suppleness of the kayak provides it with a key element of its strength and responsiveness. Bronze ring nails are used only to secure deck line fittings. All of these are chosen for strength and longevity in wet environments.
Skin: The skin is a high performance heat reactive nylon. Its man-made nature ensures it is able to cope with the trials of frequent exposure to water and temperature changes and its strength ensures it is able to stand up to impact, wear and sharp edges. The skin is stretched and hand sewn, then treated with heat and steam to shrink it a little more to produce a taut wrinkle free finish.
Stitching: The skin is stitched using high grade nylon thread which ensures both strong seams and resistance to degrading through exposure to the elements, which is further enhanced by the waterproofing system. Seams are double stitched using an initial running stitch followed by a whipping stitch.
Waterproofing: The skin is sealed with the application of modern flexible polyurethane. it has excellent adherence to the nylon skin, assisting in its protection, and most significantly, it remains flexible and therefore maintains its integrity.
Colour: The nylon used for the boat is a white material. This can be coloured using acid dyes, making it possible to have the boat in a wide range of colours. Due to the nature of acid dyes and their application, the finished product is semi opaque and colours can vary slightly in depth and hue across the skin.
Durability
Detailed discussion of durability by Brian Schultz of Cape Falcon kayaks. Valkyrie Craft uses the same cloths and Polyurethane sealant.
Brian Schultz (the designer) taking a Selkie through some paces
Brian demonstrating a range of advanced Greenland rolls in the Selkie.