Coracle making course
This workshop is a full day introduction to the universal and ancient art of skin-on-frame boat building. John will guide you through the process of building the most simple of traditional watercraft, starting with the materials and tools, and finishing with a functional small boat.
The coracle exists in many forms across the world, but all share a basic structural form and an origin lost in time. In times past they provided a means for travel and for catching fish, functions still performed in some parts of the world today.
The day includes a little of the boats history, some 'classroom' based introduction to the tools and materials, and then proceeds with the boat building. Each stage of the process is explained and a demonstration of the process provided, followed by guidance and, if required, a little assistance.
As part of the process John will also talk about a few associated topics including the nature and characteristics of wood for bending, appropriate timbers to use, various materials used in different places and times, how to care for your finished product and finally, some discussion on how to paddle it.
The workshop is essentially practical in nature and, after an initial introduction and safety discussion, most of the talking and guidance will take place while participants work.
The coracle can be built solo, in pairs or as a trio.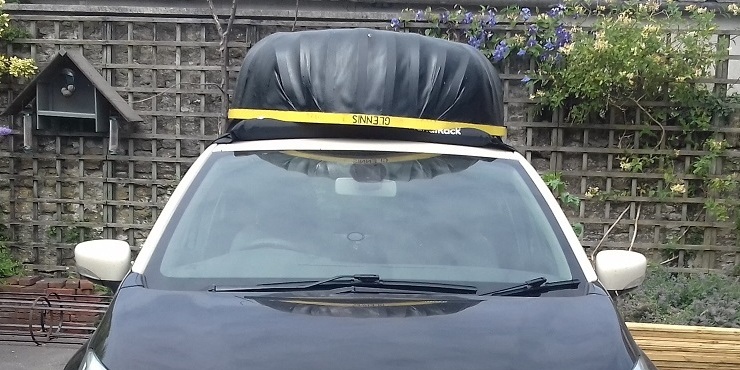 A finished coracle can be transported on a standard car roof-rack or in the boot of an medium Estate car with the back seats lowered forward.
Due to logistical constraints the finished coracle is not painted with the waterproof sealant. Advice on various options is provided.
If you wish simply to take part in the building process but do not wish to keep the finished boat, it can be donated to a local water sports charity, which John can arrange.
Outline
Build your own coracle solo or in small groups
Start with willow withies, lashing and canvas – end with a coracle
The project involves shaping the withies into a simple boat shape, lashing them together with synthetic sinew and finally stitching the canvas to the frame.
The boat 'skin' is not sealed on the day due to logistical constraints with drying time and transport. Recommendations of suitable sealants are provided.
The finished boat is yours to take away – or to donate to a local water sport charity. It is a small craft and can be transported on a standard car roof rack.
Depending on weather conditions the course takes place outdoors.
Inclusions
1 day personalised tuition
Use of all tools required
Refreshments: Tea, Coffee, a range of milk options, fruit, biscuits and sweet treats
Lunch is NOT provided.
You will need
Comfortable clothes and footwear suitable for outdoor and/or workshop environment.
Waterproof coat for occasional showery weather
An adventurous and participatory attitude
Duration
The nominal hours are 10am to 4pm. This can be adjusted to suit if participants have long travel distances.
Course numbers
Maximum of 12, Minimum of 6 participants