Cedar and Canvas Canoe
The classic Canadian canoe built entirely from timber and sheathed in canvas. Based on the traditional native American birch bark canoes and modified by European settlers to make a boat that is beautiful, robust and a pleasure to paddle.
Key Features
Moderate weight – Can be lifted, carried and launched by a solo paddler using good technique.
Stunningly beautiful – With its timber hull and fittings these boats glow with the warmth and appeal of wood.
Durable  – The hull is Western Red Cedar with ash or mahogany gunnels, chosen for excellent weight to strength characteristics, and with a #10 canvas skin, coated in hard wearing watertight filler.
Living history – A superbly functional piece of canoeing history.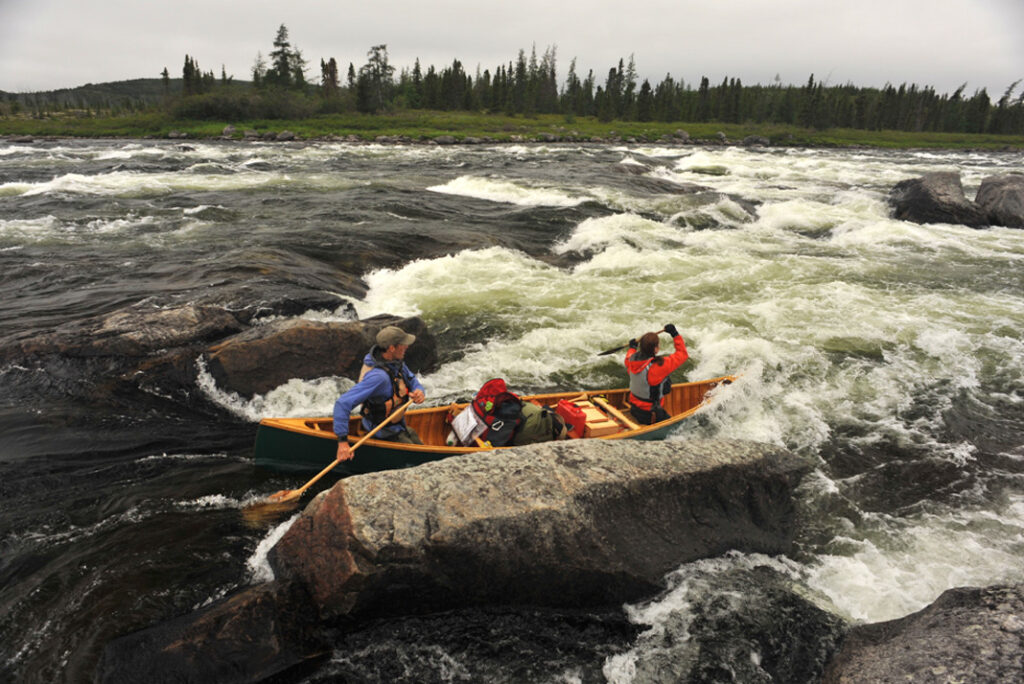 Cedar and canvas canoes were developed to serve the north American and Canadian trappers and traders. Their boats were workhorses not ornaments. However, durable as they are, you cannot pretend that wooden canoes are as impervious to damage as plastic ones; but a plastic hull encourages paddlers to ignore potential abrasions and impacts, which limits the development of their own finesse and judgement – in a plastic boat it really matter if you bounce off a few rocks on the way down a rapid. In a cedar and canvas canoe, the aim is to avoid serious impacts and to develop both paddling skill and sound judgement of your abilities.
Shearwater sizes
Shearwater 14
Length: 4.35m/ 14'4″
Beam: 85cm/ 33″
Weight: 27kg/ 60lb
Shearwater 16
Length: 4.9m/ 16'2″
Beam: 85cm/ 33″
Weight: 30kg/ 70lb
Shearwater 14
The Shearwater 14 is designed as a beautiful and responsive solo boat. It is fitted out as a tandem and will carry two, but is most suitable for one. The two seats provide good sitting positions for adjusting trim as conditions dictate.
The design of this boat combines the various elements of length, rocker and hull cross section and fore and aft profiles to produce a solo boat that handles beautifully. It has excellent manoeuvrability, holds a good line and has ample space for solo gear for extended touring, or for day kit and short expeditions for tandem paddlers…..For the solo canoeist this is the ideal boat.
Shearwater 16
This beautiful canoe is designed along the lines of the traditional 'Prospector' with a focus on an exceptional all-rounder. It is fitted out as a tandem boat but is light and manoeuvrable enough to be a very responsive solo boat.
Designed with a slight rocker, moderate hull curvature and graceful fore and aft profiles, it handles well across a range of conditions. Its hull shape provides excellent manoeuvrability, has good tracking characteristics and its profile provides minimal wind resistance. It has ample space for day gear and room enough for all the gear needed for extended touring.
Materials:
Timber: Western Red Cedar ribs and planking. Gunnels, decks and seats are usually American White Ash or Mahogany. Decks and carry handles can be a range of other hardwoods depending on availability and customer choice.
Fixings: All screws are stainless steel and are used in gunnels and deck fitting. Other fastenings are either brass or bronze. The boats are fitted with bow and stern brass stem bands.
Finish: The exterior of the hull is painted with marine gloss, the gunnels are finished in yacht varnish and the interior planking is treated with international 'Wood Skin', which is a durable, easily to recoat with minimal sanding.
Skin: Cedar and Canvas canoes have their outer hulls covered in a #10 cotton canvas and filled with a water-based filler. This is in place of traditional oil-based filler which contains a number of less eco-friendly ingredients. The combination of timber planking and filled canvas provides a tough but flexible hull. This allows the hull to retain its integrity in normal usage but to flex on impact, thereby avoiding damage where a more rigid material may fracture. After many years of use the canvas may require replacing, a relatively simple procedure involving only the removal of the outer gunnel and stem bands.
Seats: As standard, seats are woven webbing. For an additional cost they can be hand woven synthetic cane (£75 per seat).
Tender Lines: The boats come with bow and stern tender lines of floating rope.