Paddles
The Valkyrie paddle range provides beautiful wooden paddles that are well balanced, strong and durable.
With years of experience using both hand-made and commercial wooden paddles, we have identified the important features that provide a fine paddle and the key problems that result in disappointment. We aim to eliminate snapped shafts, split blade laminates, grain cracks creeping up from the toe of the blade, slippery grips, worn out varnish and excessive weight.
Each of these issues has been addressed and we are confident that our paddles are durable enough for everyday paddling, light enough for you to forget you're using them and beautiful enough to buy as a wall piece.
Our paddles are made to order and to measure and are normally completed within three weeks.
Key Features:
Laminated shafts combining the lightness of western red cedar with the strength of hardwoods.
Blade head edges armoured with hardwood from the tip to the shaft.
Blade tips armoured with epoxy resin.
Finished with multiple coats of Tung oil to:
feed the timber, unlike other oils which have limited penetration and artificial driers that build only a thin surface seal;
build up a durable patina that does not wash away nor chip and wear like varnishes.
Paddle types
Canadian / Single blade paddles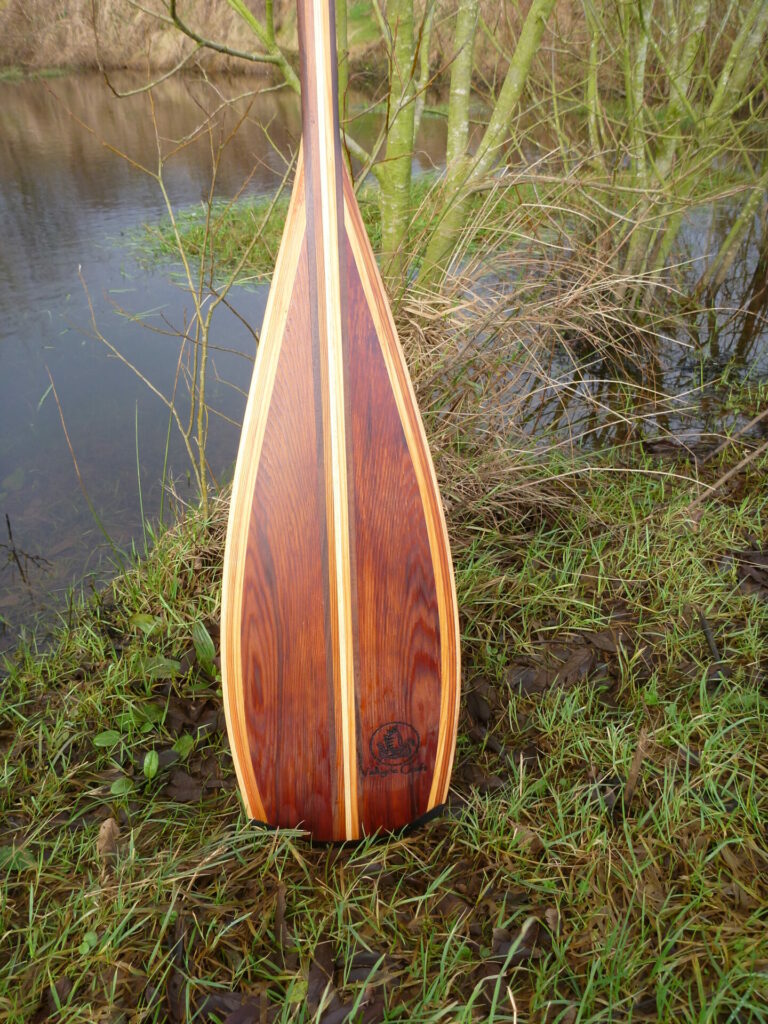 Huscarl
Named after the Norse household warriors, this paddle is designed for everyday general purpose paddling. It is a beautiful all round paddle to use with the full range of strokes. The blade size is generous giving it the potential for bursts of power when needed. The shape is based on a modified beavertail.
Blade Length: 58 cm/23 in
Blade Width (widest): 20 cm/8 in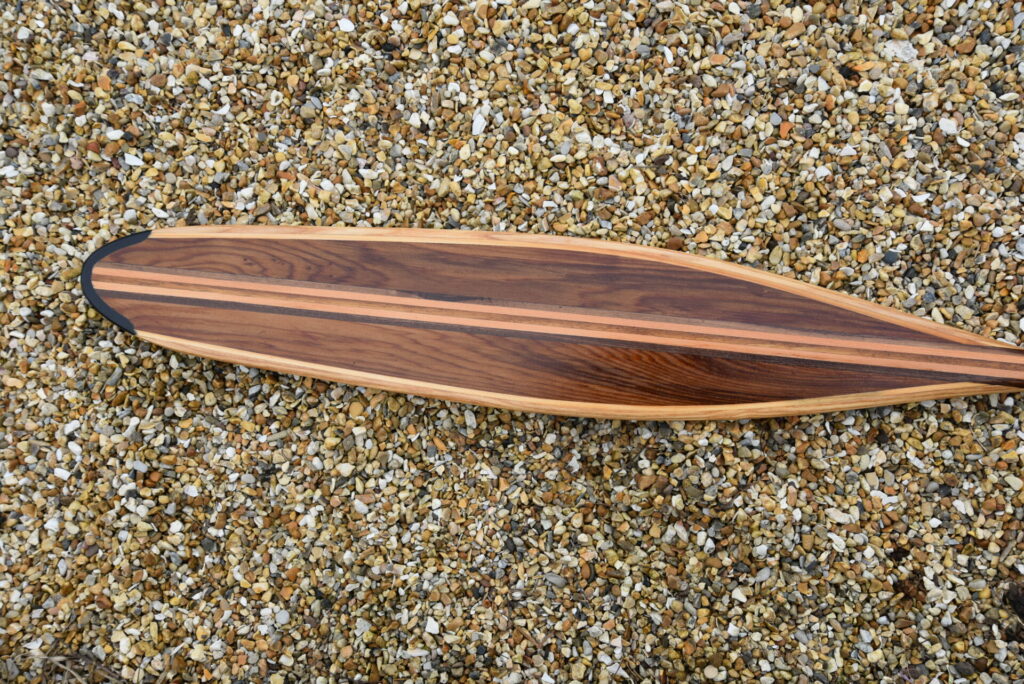 Viking
Viking means to go out travelling; the Norse sagas talk of men going 'a viking' and that is the niche of this paddle. Its long curved blade gives great purchase on the water providing excellent control in open water, where wind can be an issue. The ability to vary the depth of the stroke gives control over the level of work required and, like all touring blades, the blade length dictates the need for a slower and more relaxed stroke rhythm. The shape is based on a modified ottertail.
Blade Length: 74 cm/29 in
Blade Width (widest): 15 cm/6 in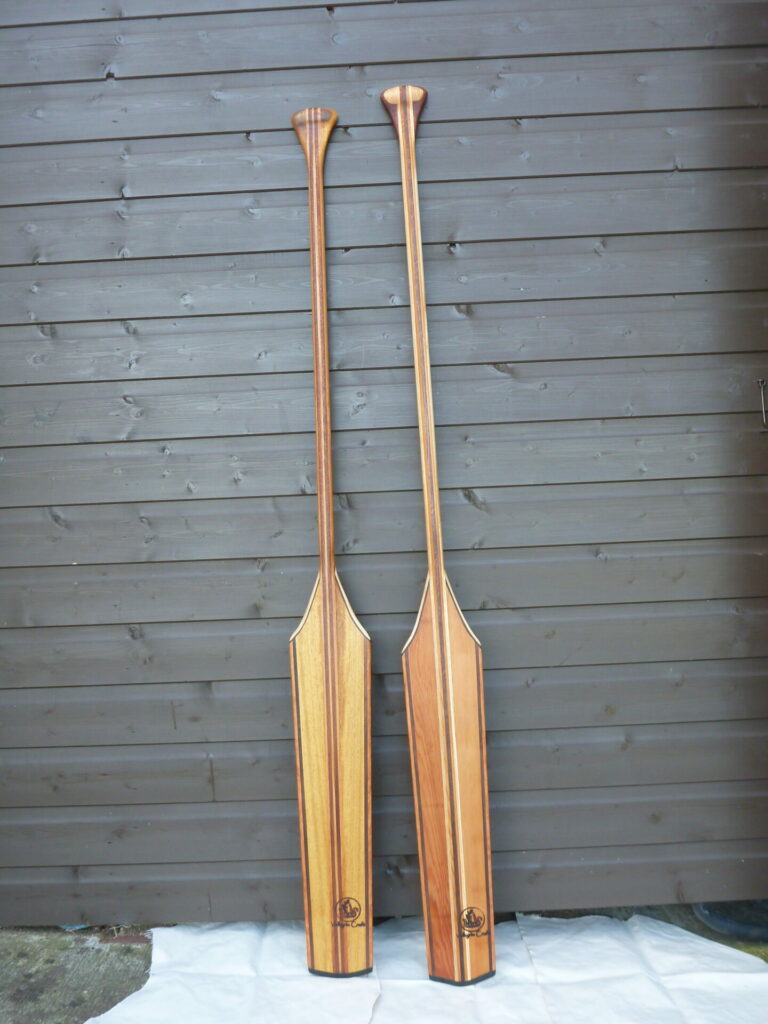 Thane
Named after the minor Norse Lords, the Thane is a beautiful paddle for touring. Like the Viking its shape is perfect for deep water paddling where the blade length provides excellent grip in the water and allows for a long slow blade rhythm to develop. With a slightly larger blade surface area than the Viking, the Thane has the potential for slightly more power to be generated with each stroke. This paddle is based on a long bladed Voyageur.
Blade Length: 71 cm/28 in
Blade Width (widest): 12.5 cm/5 in
Greenland 'Stick' sea kayak paddles

Our Greenland paddles are made to measure using a combination of hard woods and Western Red Cedar to produce a strong paddle with a comfortable weight in the hands. The laminates produce a beautiful visual effect as well as enhancing the paddle's strength. The tips are reinforced with an epoxy fillet and the blade edges with hardwood strips.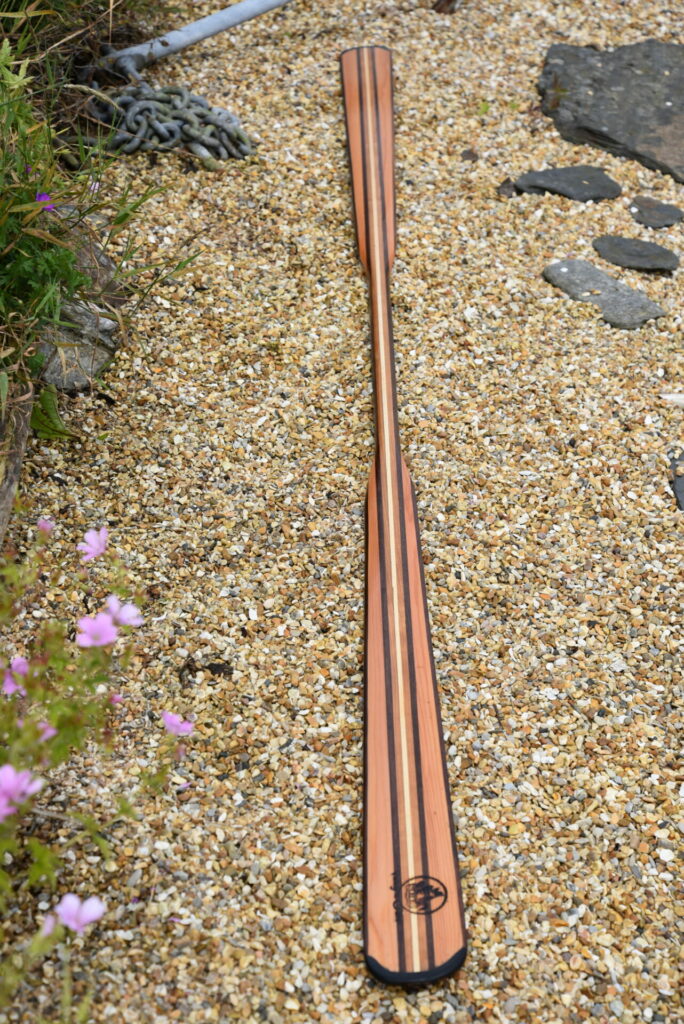 The storm paddle is a shorter version with the same blade length but a shorter shaft. This shape offers significantly less resistance to wind since nearly three quarters of the paddle disappears into the water on each stoke. This requires the development of the specialized slide-stroke where the hands slide up and down the non-paddled blade with each stroke.
Storm paddles are made from dimensions used to make a full sized paddle and then the loom length reduced to 8 inches (20 cm).
Stand Up Paddleboard paddles
Our SUP paddles are made with three head sizes and are either cranked or classic. The larger Odin head gives massive bite for big power paddling, Loki is for the average paddler whilst the smaller Freja relies more on finesse.
Named after the Lord and Lady of the Norse pantheon and the god of mischief, these stand-up paddles are developed for both long distance flat-water paddling and for use in the surf.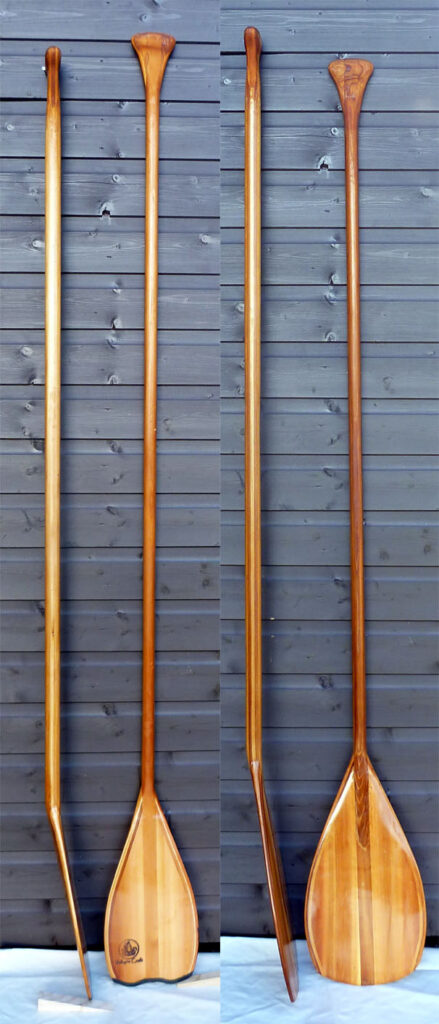 The Odin has a larger blade for maximum power and bite in the water.
Blade Length: 47 cm/18.5 in
Blade Width (widest): 25 cm/10 in
Freya's smaller head requires less effort to get the board moving and is less tiring for the longer flat water trip.
Blade Length: 45 cm/18 in
Blade Width (widest): 22 cm/ 8.7 in
Loki's standard head makes it a good all rounder.
Blade Length: 50 cm/ 20 in
Blade Width (widest): 23 cm/9 in
If you go for the cranked shaft, the crank angle is 12 degrees.